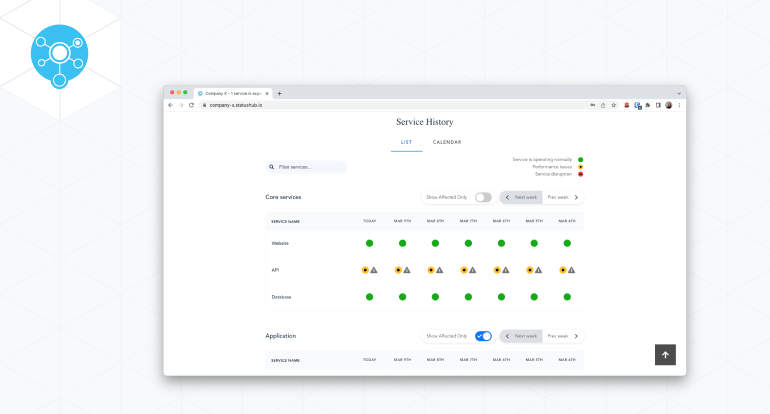 A new status page design and 4 more feature updates.
Read the details on what's new in the design and we have news on 4 more StatusHub feature updates.
What's changed in the status page design?
1. New UI for the subscription process
The purpose of this update was to reduce the complexity of the subscription process for end-users and keep the flexibility to make as many changes as needed.
Now subscribers have to complete the input of each method on its own. There is new functionality to reuse the services selection from a previous method if a subscriber chooses additional methods.
2. New look for the status page
Previously we included samples in this blog post: New status page design and connected hubs. You can preview your hub in the new design by following the link in the "Hub Settings".
3. Show service history in either list view or calendar view
Prior to this only one option was displayed. Viewers can switch between the 2 variations of history view right on your status page.
4. Show only affected services in the history
The list view will collapse to hide non-affected services to get an overview of recent incidents and maintenance events. There is a toggle button above each group listing to switch between the 'show all' or 'show affected'.
5. Smart filter/search
Now you can easily find the service you are looking for in the service history list view. Just start typing the name in the search box on the top left and the view will dynamically refresh with results.
More new features:
While we have been busy with our two major changes: Connected hubs and new status page design, there were other updates to current features together with some new ones.
1. Importing Subscribers via CSV
We've simplified the CSV import feature. From now on you can not specify services for each customer separately anymore. End-users can edit preferences if they want after they have been subscribed. If you want to fully control subscribers you can still do it via the API.
2. Incident suppression during Maintenance
Now you have the ability to suppress auto-created incidents (by webhook or API) during certain maintenance events. This reduces the noise of automated monitoring checks that are expected to fail during a maintenance window.
3. Additional Role for Hubs called Manager
A new role called "Manager" is available. This gives you the ability to delegate the service management to a team member without granting him/her Admin rights for a hub.
Please visit this help doc for more details: Manage team member permissions.
4. 2FA
To improve your account security you may now use two-factor authentication on StatusHub.
Please visit this help doc for more details: Security.
---
If you have any questions or feedback about this post please contact us.
<--

Back to blog